About Us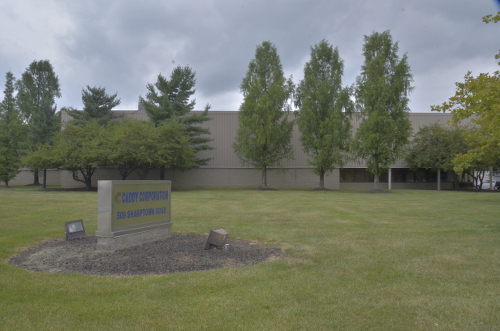 Caddy's 71,000 Sq. Ft. Manufacturing Facility
Founded in 1945 by Henry Rothschild, Caddy Corporation has evolved from a small custom stainless steel fabricator to one of the leading manufacturers of a complete line of quality food service equipment and custom high-end commercial cooking ventilation systems in the United States, Canada, and around the world.
Caddy started out in 1945 under the name Universal Equipment, but was changed to its current name, Caddy Corporation, shortly after its founding when, in 1948, it began designing and building dish and tray handling carts and "caddys" for the food service industry.
In 1964, Caddy partnered with a wire-plating engineer to develop a process and the machinery for continuously plating wire and strip, which resulted in the creation of the company Universal Industrial Equipment. This process is still in use today, and Universal Industrial Equipment remains a wholly owned subsidiary of Caddy.
By 1964, Caddy was operating out of two New Jersey locations, Secaucus and Pitman. In 1968, all operations were consolidated into one location in Pitman, New Jersey.
With the 1970s came another change when Caddy was sold to Rockaway Corporation in 1971. After 16 years of developing the business, Caddy was again sold in 1988 to Sun Wave USA, a Japanese-based company. In 1997, Caddy was purchased by Howard Cohen, who previously served as company president. Howard retired in 2002 selling Caddy to his son Craig Cohen, who solely owned the company until 2023. Today, Caddy is owned by Aerowerks out of Canada. Operating as its own separate company, Caddy is housed in a 71,000 square foot manufacturing and office facility. Located in Bridgeport, New Jersey it includes a modern showroom for product training and customer demonstrations, as well as visibility to the manufacturing floor.
Caddy offers a full line of products for food service delivery, storage, and return, including tray conveyors of various sizes and configurations, hot food tables, mobile dish and tray dispensers, storage and tray delivery carts, and insulated dinnerware.
In addition to its extensive line of standard catalog products, Caddy specializes in engineering custom solutions for food delivery and return systems, utility distribution, and air ventilation hoods for the food service industry. By working with customers through every phase of the process from planning to manufacturing, installing, and servicing the equipment, Caddy is able to offer the highest quality products in the industry from a single source, backed by their own extended warranty.
Through the years, Caddy has built a long tradition of high quality products, innovation, and outstanding customer support in the food service industry, and will continue to do so for many years in the future.